[SOLD]
Listed are a pair of Ford 351C 2V Cleveland 2 Barrel Cylinder Heads that have been cleaned up and include some preparations for screw in studs and guide plates as well as some light porting work.
351 - 2BBL (FORD Part number D1AE-CB)
Date Code 2J29 equates to September 29, 1972
Date Code 0F15 equates to June 15, 1970
Very nice set of heads with springs and valves assembled. I was going to use these in a Clevor Project, but I ended up selling the project car.
These are located in Virginia (22152 zip code) and I am asking $250.
Pictures are of actual item listed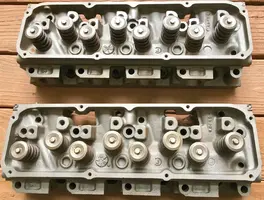 Top Head:
Bottom head:
Let me know if you need any more pictures.
Last edited: