Ive used these forums for years for things but never took the time to sign up... until now. I came across a project/deal that I hope is worth it in the long run. I will post up the details here and I am sure I will have questions later. Im getting this car basically in pieces and have to manage putting this thing together and back up and running. This thing sat for 3 years unfinished. Look forward to getting advice from everyone and I am pretty sure I will be using the classified section alot in the next couple weeks so if you see something I need, help me out.
87 Ford Mustang LX
Engine:
Original 302 block, bored .030 over tor a 306
JE forged pistons
Eagle Rods
Stock crank
F-cam
Edelbrock #60379 heads
ARP head bolts
new harmonic balancer
ES urethane mounts
9.6:1 compression
Fresh machine work; 0 miles; fully balanced and professionaly built.
Transmission:
tired T5 Transmission
RAM clutch
Aluminum Driveshaft
ES urethane mount
8.8 4 lug stock rear end other than having 4.10 gears in it
IgnitionFuel:
Walbro 255 in tank pump
24lb injectors
summit 75mm 24lb MAF
MSD Billet distributor
Exhaust:
Hooker shorty headers
off road H-pipe\
Flowmaster exhaust
Suspension:
UPR Upper & Lower control arms
unknown lowering springs
Wheels/Tires:
full set Weld Drag lite rims w/ Nitto 555 275 rear tires
full set mustang 5 star rims w/ MT ET 255 rear tires
Now I have to finish this thing and get it running. So far I have only ordered Crane 1.7 pedestal roller rockers, hardened 1 piece pushrods, new valve covers and Ford Racing 9mm spark plug wires. I still need a bunch of stuff to get it running/driving. Here are some pics and plans for the setup.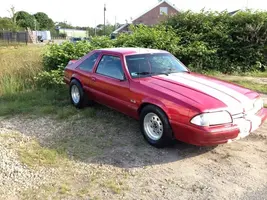 Plans are to ditch the current intake manifold setup. I have a 96 ford explorer GT40 upper and lower I plan to bolt into it. I have no accessories for the engine so I need to get myself an alternator, power steering pump and power steering pump lines along with a bracket setup that will work with an electric water pump. Also the engine wiring harness in the car is messed up. Its an 87 harness that is all hacked up and I need to do a MAF conversion in this thing so with purchase of the car, I got myself a 5 speed MAF ecu and 2 complete engine wiring harnesses. One I heard is for a 93, the other is for an 88 or 89... not sure. So I am going to rip out the current harness and put in a brand new MAF engine wiring harness and be done with it. I need a bunch of other stupid things like radiator, fan, hoses, fuel rail/line setup etc. but I will deal with that when it comes. I have to flush the oil out of this thing and prime the engine again because of how long its been sitting.
Im sure its going to be a nice little project out of this thing so if anyone has any suggestions, advice or has any parts they think I will need, post here or PM me. I will be pretty active on the forums the next couple weeks until I can get this thing running.