May 23, 2003
1,723
2
39
39
I searched and searched for options on a crank trigger for a 94/95 serpentine belt type setup. After hours of searching the only direct bolt on kit i saw was over $700 from inovatorswest.com which was a balancer with magnets machined on the front and some expensive brackets and sensor.
I had bought a holley crank trigger kit off my tuner at a discount but found that -64 tuning concepts had a kit on ebay i could have used for bit cheaper i believe.
First obstical i ran into was that the underdrive pulleys caused a clearance issue, specifically the larger waterpump pulley. I found the stock one with a smaller belt worked for me. i think i could have had the outside lip machined back a 1/4" and been fine but was happy about the thought of speeding water pump up a bit.
Next i had a machine shop machine off like 3/4 of an inch off the mounting serface and extend the threads. I unfortunately do not remember brand of balancer I have. I think its a romac but cant remember. This much had to be machined off to get crank trigger wheel to fit between balancer and pulley.
Due to mounting offset of the pulley a custom aluminum spacer was made by the machine shop. There is about 0.020 between crank trigger wheel and the non mountable part of balancer.
I then had to cut about 5/8" off the spacers of the holley mounting brackets for hall effect sensor so it lined up right.
Last part was kind of crude but had to make a new timing pointer. Some paint and rounding and smoothing out edges and it wouldnt look so bad.
I am just posting this because i found virtually no info on people putting a crank trigger on a SN95 serpentine waterpump setup. Unless you spent $700+. My machine shop charged me $150 and i could have bought the ebay kit from -64 bit tuning for about $250.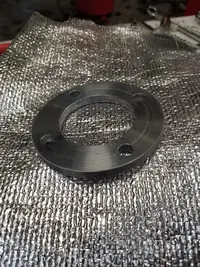 Last edited: