I wish I didn't have all of these balls in the air
15 Year Member
Dec 6, 2005
3,131
2,198
174
49
I took the Cobra to a Fox body show and meet and greet at a local speed shop. They were giving 3 pulls for $50 so I said what the hell! It's never been on a dyno, I've always just used the Desktop Dyno numbers that I did when I bought everything for the 302 15-20 years ago. Those estimates were around 350 HP/370 ftlb iirc.
It's still running rich since I put the new manifold on it and took the carb back to stock jetting. I haven't taken the time to try and tune the carb yet at all and it showed! I asked about having them tune it and the price wasn't all that bad, so I may take it back to them at some point and have them go through it. I suspect my dyno numbers will increase once the A/F ratio is a lot closer.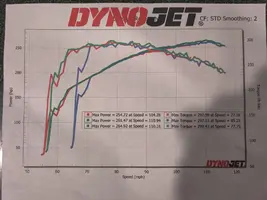 Videos are currently uploading, I will share them when they're available on YouTube.